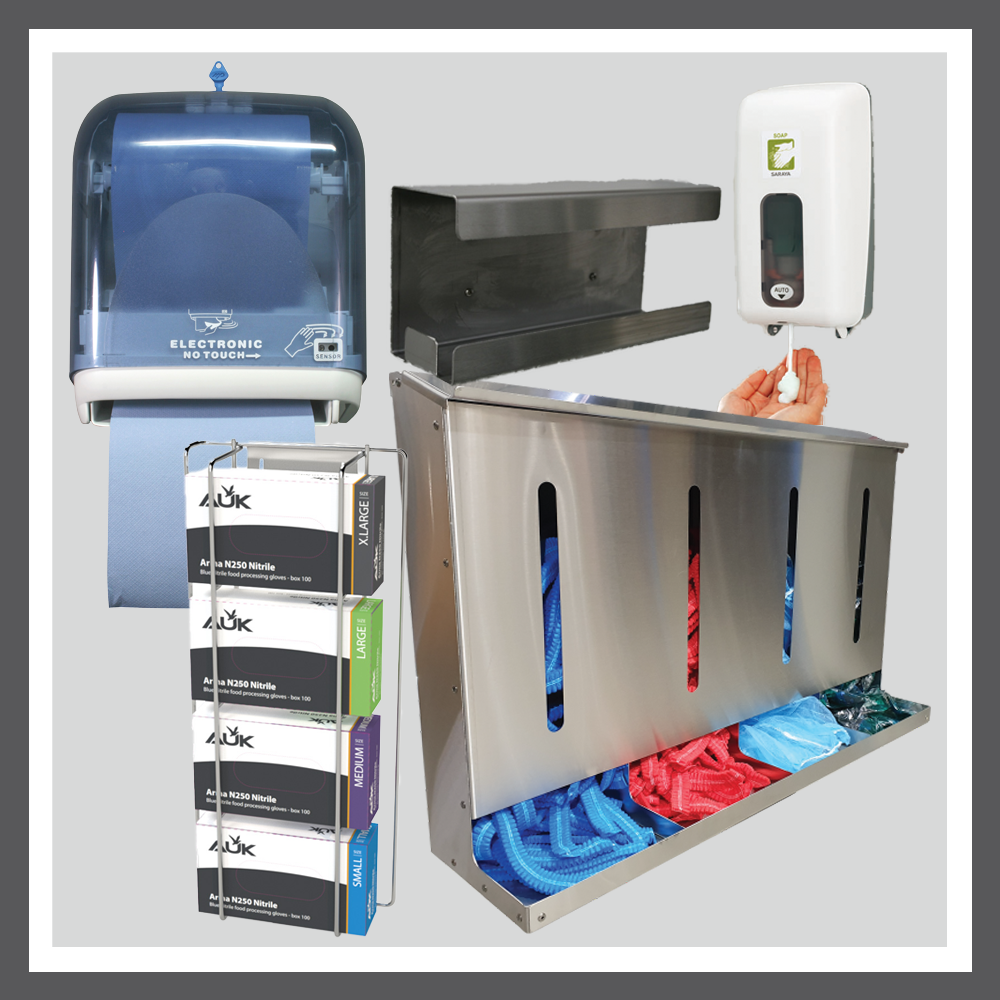 Dispensers in Food Production Facilities
Soap dispensers, paper towel dispensers, PPE dispensers: what makes a great design?
Efficiency is critical in production areas. Time, energy and effort are all limited, and need to be used carefully to ensure the maximum productivity.
Likewise, production consumables are just as essential in food manufacturing, for a range of purposes. The large volumes of these required demands efficient systems to allow for easy access and control so time isn't lost and waste is controlled.
Over time, the ergonomics and basic functionality of dispensers have evolved making them more valuable and necessary in food processing than ever.
What is important in a dispenser?
A large amount of design goes into a highly functioning dispenser. Some of the basic considerations are hygiene control, reduced contact, limited waste and controlled dispensing of supplies.
Some of the advancements in dispensers include:
Slimline design: this term refers to the reshaped unit of the product to either fit in small areas, such as restrooms, or to not jut out from the wall. This both save space and limits potential WHS risks.
Automation – this comes in many variations, particularly with soap, sanitizer, and paper towel dispensers. This reduces touching either the unit or the product used by others, preventing cross contamination. It is also extremely cost effective, because it prevents waste and saves time, effort, and hygiene risks. Different variations of automation include sensory and auto-cut, depending on the type of product.
Waste limitation- for example automation, or perforated sheets -care needs to be taken to ensure this doesn't slow down the process unnecessarily.
Transparent windows to visually keep track of stock – this is very important in ensuring stock does not run out and is refilled when necessary.
Centralized location -although this is obvious, it helps keep track of how often disposables are replaced.
Dispensing is not only about the speed of which accessing disposables can be accomplished, but also how easy it is. Time and cost are recognized as very valued resources, and therefore many products' packaging accommodates easy dispensing. Examples of this include perforated paper towels and aprons with perforated headers.
Dispensers are something most people are familiar with, however they are now more useful than ever, in helping production areas run smoothly and efficiently while controlling stock, waste and hygiene risks. Different companies have unique needs and requirements but finding the best fit for you could change your production efficiency.