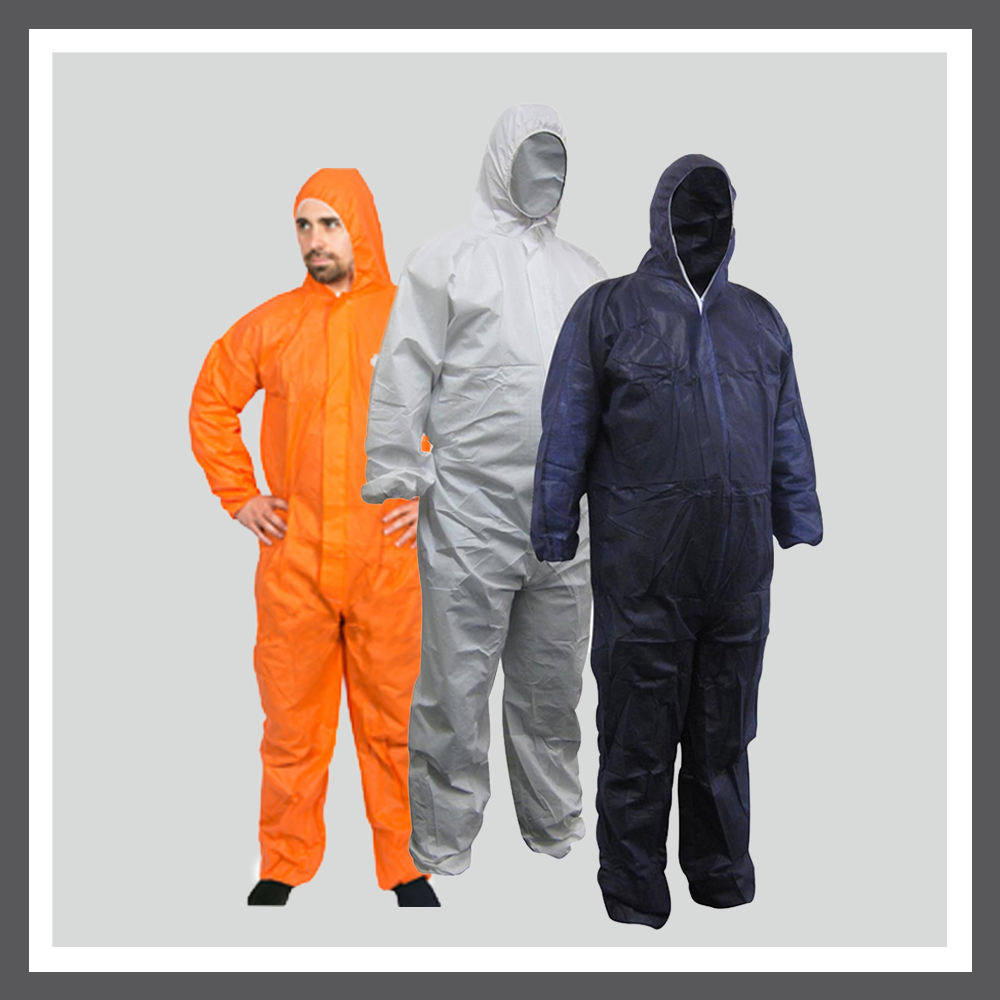 Coveralls are considered an essential piece of protective wear in most food production areas. As their name suggests, a coverall is a single garment that covers the entire body, trousers, top and hood. The purpose of a coverall is to protect the worker's body and clothes from messy or hazardous labor-intensive jobs.
Some coverall features that many customers find important include elastic cuffs, hoods, sealable zip cover, water resistant and breathable material, colour variance and a range of sizes.
Both disposable and reusable coveralls are used throughout the industry. While they share many features, the disposable options are often preferred as they can be replaced easily, and not likely to harbor bacteria.
Hoods and elastic cuffs both serve a similar purpose, protecting the worker by preventing irritating materials making contact with skin.
Water resistance or protection levels are usually described by European Standards called 'Types". For example, Type 6 refers to a protection barrier that would manage a limited splash or liquid spray.
Breathable material ensures the user is comfortable and can focus on their work, without being irritated by perspiration.
Coveralls are either available in sized or uni-size options.
It is important to consider that a size up is normally required, as workers will be fully dressed underneath.
A coverall is fastened by a zip, and a good quality coverall would also have a sealable zip cover, to reduce any chance of contamination.
Colour is always a big part of the food industry, and like all disposable-wear, coveralls are available in different colours.
To get the best results out of employees, coveralls must be comfortable to enable workers to focus. A coveralls can also minimize other PPE required, such as oversleeves and aprons etc., thus often making them preferable.
Usually, a quality coverall is characterized by being both breathable and water resistant.
While these two features appear contradictory, it is achieved by different layers within the material. The two main material options are: SMS or MPF.
SMS is a three-layered material; two layers of spun bound with a layer of melt blown in between. Spun bound and melt blown refer to how the layers are made. This combination of layers ensures a light spray coverage, from the middle layer, while the two spun bound layers ensure breathability.
MPF on the other hand, means microporous fabric. MPF have a higher strength, and increased water resistance compared to the SMS. It is created by two layers, the base being a strong polypropylene and the other is a thin microfiber layer over the top. While MPF is less breathable, the increased strength makes them more popular.
To conclude, coveralls are an effective solution for ensuring complete protection for both the body and the many aspects associated with food processing. Most importantly matching your needs with a good quality product will allow peace of mind so that you in turn can ensure the delivery of quality food, with low contamination risks.